Services
---
Repairs and Refinishing Price List (2-page PDF download)
---
Restoration & Repairs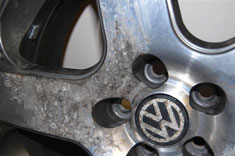 The Wheel Restorer can repair damaged aluminium and steel wheels including buckles and cracked rims. We can eradicate deep kerb marks and minor scuffs and restore wheels with excessive corrosion and flaking lacquer.
Each job is assessed and occasionally a rim may be beyond repair, being too damaged to be used again safely.
Repairs and Refinishing Price List (2-page PDF download)
---
Refinishing & Lacquer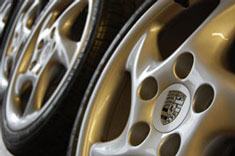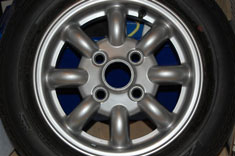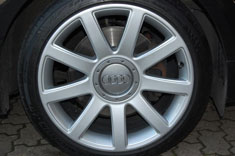 We can offer you many options of finish including.
Powder Coating
Diamond Cutting and Bare Metal Polishing (Outer Rim / Front Face / Or both - subject to the wheel design)
Choose from our range of smooth and metallic Silvers
Choose from our key Range of Silvers (Light shades up to strong course metalics)
Special custom work - like "Shadow Chrome" and two tone paintwork.
Please click on our Restoration & Price guide for more info.
Repairs and Refinishing Price List (PDF)
---
New Styles / Retro / Historic / Motorsport & Motorcycle

We can restore new or old style, one, two, or three piece (Split Rim) Alloy wheels for Road, Rally and Racing, Motorcycle applications and also prepare and refinish other associated automotive components.
---
Tyres & Balancing
We use the latest technical innovative machines for tyre removal and digital wheel balancing.

We are Michelin trained experts at tyre fitting and accurate wheel balancing. We guarantee NOT to damage your wheels, and fit all types including Run Flats and Low Profile. We can be trusted with cars with a high value that need looking after exceptionally well!
---
Delivery / Collection
We can arrange collection and delivery for wheels and tyres from the UK, please contact us for a quotation.
---
Terms & Conditions
Sometimes a wheel is too damaged beyond our repairing capabilities and we will be unable to offer any refurbishment on the grounds of safety. Every wheel is subjected to scrutiny before we commence any work and if we suspect a wheel is damaged beyond our repair we will let you know.
---